@FashionFinderDk and @ElephantiApp are working to convert mobile surfers to brick and mortar shoppers #RetailTechSummit #FTW14

— Mary Egbula (@eightyjane) March 2, 2014
The Retail Tech Summit took place Sunday, March 2nd, as part of San Francisco's Fashion Tech Week 2014. The event featured presentations and panel discussions from companies that are using technology in new ways to improve retail experiences online and offline. Surprisingly, though, this years selection of presenters skewed toward the offline end of the spectrum. It was a refreshing break from the barage of e-commerce options that dominate the fashion app landscape. I was especially intrigued that among a short list, there were two applications at the summit focus on helping mobile users find brick and mortar shops to patronize.
FashionFinder
lets users find nearby stores by browsing a category or searching for a brand. Say you're near San Francisco and want to shop for jewelry, for example. You'd select that category and the app would give you a number of stores listed with their distance from your current location. Choosing a listing provides the user with basic info about the store and includes a route button, which apps the Apple maps application with directions to the store. While Yelp seems to have a corner on local discovery at the moment, but there's plenty of room for improvement in that regard – especially when you are providing for a niche market. FashionFinder is poised to offer an elegant way to find good, local shopping options, especially if the app continues to highlight local boutiques and small stores. The cherry on the top might be to eventually have some sort of review system that could provide the crowd-source reputation building, as Yelp does.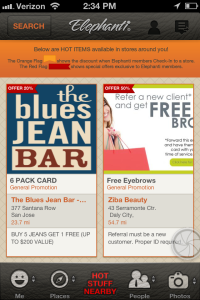 Elephanti offers a more comprehensive options for shopping and services, but adds the function of making recommendations based on the user's selected interests. Other apps, like Shopkick and Shopular are in a similar space, trying provide location based shopping recommendations and incentives to visit stores offline. Unfortunately for all three of these, the design and delivery of the content seems too similar to those annoying (hard copy) mailers full of coupons and ambiguous consumables. According to the presenter at the summit, Elephanti is a philanthropic effort, as it is ad-free and requires no fees for shoppers or retailers. With that in mind the app might be improved by the injection of some crowd-source charity initiatives. E.g. for every check-in November, a business donates a $1 to a Veterans association. As is, the design and user experience don't inspire one to abandoned Yelp for discovery or Scoutmob for deals. According to TechCruch, though, Elephanti raised $4.5M in seed funding, which might signal that improvements are imminent and the app is still one to watch.